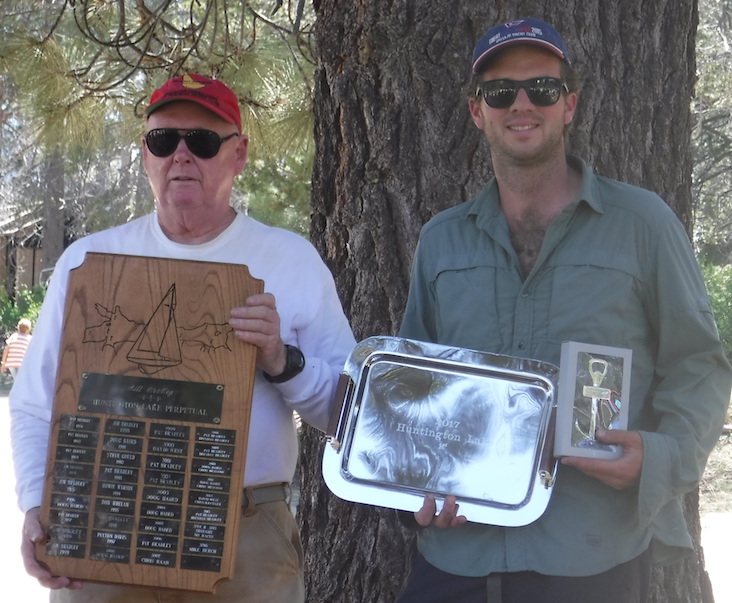 24 entrants started in the regatta in almost perfect sailing conditions, warm and sunny, for this lake. The breeze was about 4 knots as one approached the weather mark to twelve knots in the biggest puffs. As usual with lake sailing it was shifty.
Race one was a double sausage, finishing on the wind. Doug Baird with Robert Lanzafame, stating at the RC end of the line took off in a breeze that was more from the North side of the lake. Baird led all the way. Dave West with Chris Krueger started more in the middle of the line and along with Baird, left the fleet in a cloud of dust. Don Whelan with Kieth Henry, also starting more to the middle of line, was moving fast and placed third. Fourth place went to Dave Morris, in his newly refitted Merc, with Tim Cordrey. Fifth place was Pat and Brendan Bradley.
Race two, the breeze with the shifts, was more in the middle of the lake. Tacking up the shore was not a sure way to take advantage of the conditions. Most of the top Mercs were starting at the RC end of the line. West got off very fast and it looked as though this would be another horizon job. However Jim and Kathy Bradley who were not able to get it going in the first race, caught West at the final leeward mark. But it was not enough to get an overlap. West won and Bradley was second. Baird was third followed by Morris. Bill and Katie Worden improved their position with a fifth place.
Race three, more of the same excellent conditions, was the same course as race 2. Baird was over early, but being at the RC end of the line, recovered quickly, proceded to pick a good shift and he was gone. Like the first race there was more breeze from the north side of the course. West, was looking very good, but Morris got by him in the end. Morris was second and West third. Jim Bradley was fourth and Worden was fifth. Baird won the regatta by one point over West.
Class President Park Densmore won the Silver Fleet followed by Bill Buckingham and third was Kem Bricker. Many thanks to Pat Bradley and the Fresno Fleet and to Matt Jones for conducting the racing.
2017 Huntington Lake

NO.

Name

Race 1

Race 2

Race 3

Total

PL

508

Baird

1

3

1

5

1

529

West

2

1

3

6

2

416

Da Morris

4

4

2

10

3

553

J Bradley

9

2

4

15

4

431

Worden

6

5

5

16

5

466

Whelan

3

6

9

18

6

560

P Bradley

3

8

6

19

7

468

Priest

11

7

8

26

8

572

Densmore

10

11

7

28

9

481

Buckingham

12

9

15

36

10

569

Lanzafame

7

10

20

37

11

554

Kraft

13

14

14

41

12

550

Bricker

15

16

11

42

13

580

Davis

18

15

10

43

14

542

Conn

19

12

13

44

15

582

Baldwin

16

20

12

50

16

584

Maring

8

19

24

51

17

567

Wenzel

17

18

16

51

18

454

Lysight

20

13

19

52

19

538

Schroeder

14

24

17

55

20

504

Burns

21

17

18

56

21

565

Hines

22

21

21

64

22

579

Do Morris

23

22

22

67

23