Coronado Yacht Club - August 12-13, 2022.
Fourteen entries came out for some great sailing conditions in San Diego's South Bay.
Race 1: The breeze filled in at about 10 mph at 240 degrees. Raab and Messano jumped ahead of the fleet going right and lead at the first mark, followed by G Dair, Smith, Burch, and Park Densmore in pursuit. At the first leeward mark Birch moved into 3rd and Dair slipped back to 7, and up to Hansen into 5th. Positions stayed steady, and finishing order was Messano, Raab, Birch, Smith, except Bacci moved up to 5th
Race 2: Breeze pick up to 12+ mph for a 4 leg course, with a downwind finish. Messano lead at every mark, followed by Raab, Birch, Smith, and Ravizza. Conditions made for close sailing within the fleet.
Race 3: Breeze remained steady for the longer 5 leg course, with the finish at the windward mark. Again, Messano lead at every mark and stretching out a bit with no one able to catch him. Things got mixed up with Smith finishing 2nd, Raab 3rd, G Dair 4t, and Burch 5th.
Saturday Racing...
Race 4: Saw lighter conditions with the wind at 7-8 mph. Smith broke out on the first leg, and lead at the windward mark, followed by Messano, Ravizza, Raab, and Burch. By the leeward mark, Messano was back in the lead, followed by Smith, Burch, Ravizza, and Raab. By the finish it was Messano, Smith, Burch, Ravizza, and Greg Dair moved up into 5th.
Race 5: The wind remained light, the fleet generally went right, and Ravizza got into the lead. Greg Dair found some shifts on the left and came out just behind Ravizza at the windward mark, followed by Burch, Messano, and Drake Baldwin. Positions got shaken up on the run, and Greg Dair lead at the leeward mark, followed by Burch, Ravizza, Hansen, and Messano. On the second run things got mixed up once again, as the wind got lighter and the course was shortened to finish at the leeward mark , with Greg Dair in first, followed by Hansen, Ravizza, Burch, and Messano.

Congratulations to Chris Messano and crew Chris Villich on their decisive victory. Congratulations to Drake Baldwin and Peter Baldwin for winning the Silver fleet.

Our thanks to Coronado Yacht Club for their hospitality.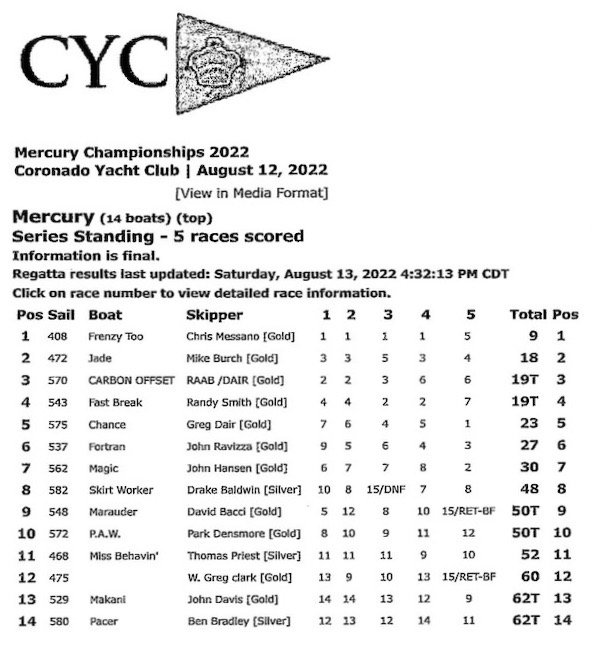 2022 Skipper and Crew

| | | |
| --- | --- | --- |
| Sail # | Skipper | Crew |
| 408 | Chris Messano | Chris Villich |
| 472 | Mike Burch | Kristen Burch |
| 543 | Randy Smith | Greg Felton |
| 570 | Chris Raab | Kenny Dair |
| 575 | Greg Dair | Tucker Atterbury |
| 537 | John Ravizza | Chris Boome |
| 562 | John Hansen | Tony Basso |
| 582 | Drake Baldwin | Peter Baldwin |
| 548 | David Bacci | Natasha Bacci |
| 572 | Park Densmore | Katy Priest |
| 468 | Tom Priest | Damon Guitzot |
| 475 | Greg Clark | Dave Shoemaker |
| 529 | Chris Davis | Karissa Peth |
| 580 | Ben Bradley | John Lizenby |