The 2023 Mercury Class National Championships
The San Francisco Yach Club: October 19-20, 2023
Nineteen entries came out in San Francisco Bay and the home of the original Mercury class for the 75th Mercury Nationals. Two sailing areas were set up for this regatta: West of Knox and Richardson Bay. The race committee chose to use the Richardson Bay venue for all of the races due to the wind conditions.
Race 1: After a short Postponement, the wind started to fill in at 8-10 knots from 240 degrees. John Ravizza and John Buerstad jumped ahead of the fleet and led to the first mark, followed by John Hansen, Mike Burch, Shaum Sinawi and Randy Smith in hot pursuit. John Ravizza extended his lead and won the race. Mike Burch, John Hansen, Shaum Sinaw and Randy Smith crossed the finish line overlap in a very close race for 2nd.
Race 2: The breeze remained the same but became shiftier and puffier. The courses had short legs, 0.55-0.7 kn. So, the race committee used a triple sausage race with a downwind finish. Chris Raab and Kenny Dair got an early lead and led the whole race followed by John Hansen, Randy Smith, Brendan Bradley and Erik Menzel.
Race 3: There was a slight delay as the RC changes the course to the new wind direction. The wind increased to 10-12. Mike Birch got off to a quick start and led the entire race. He was followed by Randy Smith, John Hansen, John Ravizza and Chris Raab. At the end of the first day, John Hansen was leading with 7 points followed by Randy Smith with 10 points and Mike Birch was 13 points.
Race 4: The sailing conditions were the same as day one with 6-8 winds with shifty conditions. Mike Birch led the way around a triple sausage course. The RC changes the location of the weather mark to keep the course square with the wind. Mike was followed by Randy Smith, Stave and Michael Kraft, and Peter and Drake Baldwin (Silver Fleet).
Race 5: Randy Smith was currently ahead of Mike Birch by one point. The last race was a triple sausage. Chris Raab and Kenny Dair take an early lead and extended away from the leading pack of boats. At the final weather mark, Chris was launched followed by Mike Birch and Randy Smith bow to stern at the mark. The final finish was Chris, Erik Menzel with Bren Meyers, Mike Birch, John and Michael Ravizza, and Dave West and Chris Krueger.
Congratulations to Mike and Kyle Birch on their victory!
Congratulations to Drake and Peter Baldwin for winning the Silver Fleet
A special thanks to the San Francisco Yacht Club and Forest Gay on and off the water.
---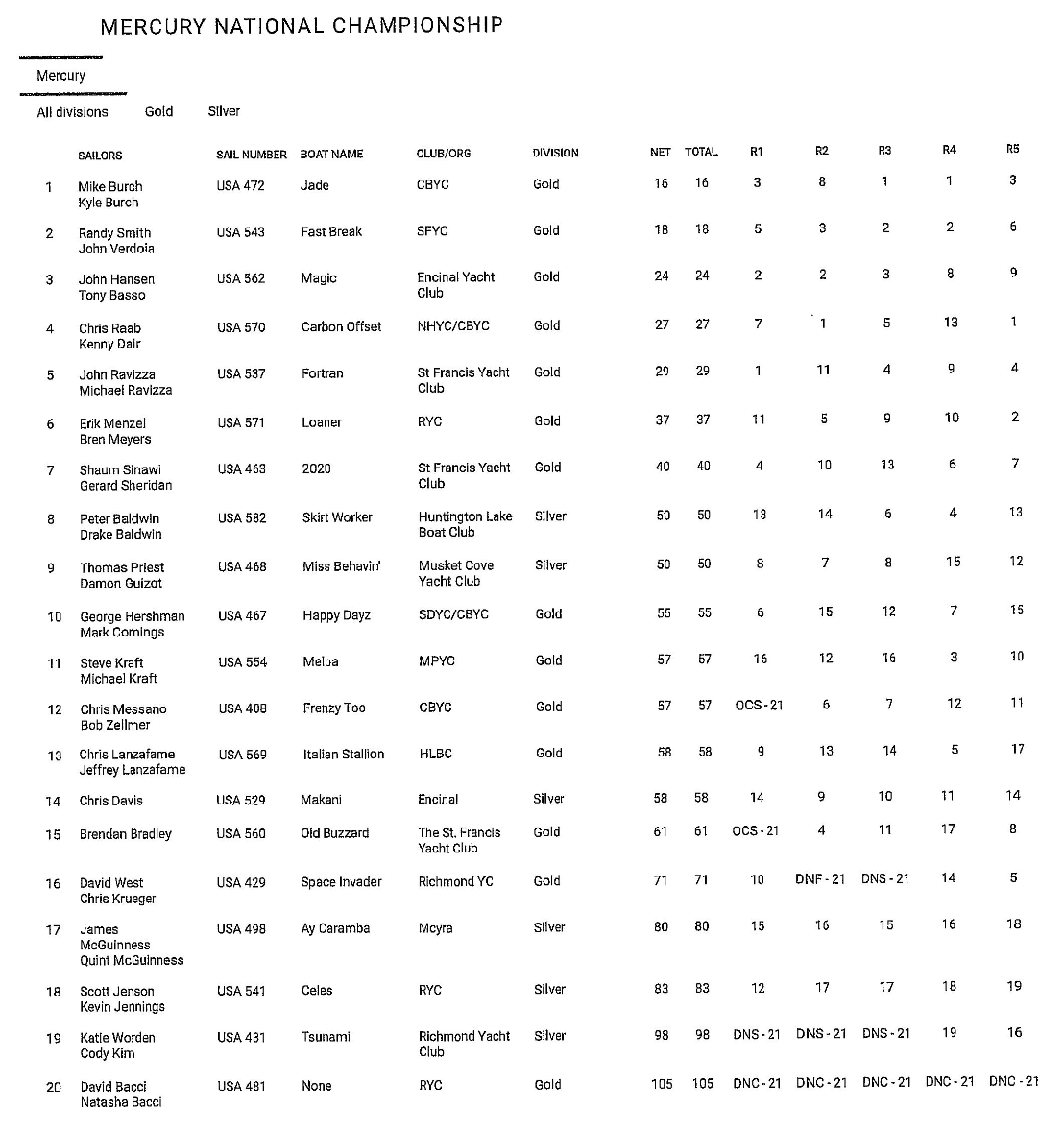 ---