Eleven Mercury's were on the starting line for the 93rd Midwinter Regatta. Light wind prevailed both days with a lengthy postponement on Saturday. Three races were sailed on Saturday and the course had to be moved between each race.
Race 1 saw the wind about 190 degrees with a single lap course half mile long. Greg Dair was just ahead, followed by Whelan. Whelan fell back avoiding a leeward boat soon after the rounding and had to make a penalty turn. Greg went to win, followed by Dave West, Raab/K Dair, and Randy Smith.


Race 2 was a two lap course with the wind at 210 degrees. Greg Dair, again, jumped out to the lead. He won the race followed by Smith, Raab/Dair, and Chris Messano.


Race 3 saw the wind move more right to about 230 degrees while remaining light. The first leg was close with Raab/Dair coming in on port with a perfect lee bow tack on Whelan to get around first. Raab/ Dair went on to finish first, followed by Messano, Smith, and George Hershman.

Sunday had clear sunny skies and would have two races

Race 4 saw the wind at about 190 degreea and light. Smith broke out and won race 4, followed by Messano, West, and Whelan.


Race 5 mixed up the scores with West getting in the lead and winning race 5, followed by Smith, Raab/ Dair, and Messano.


Randy Smith's consistent finishing won the series. The win in race 5 moved West into 2nd, while Raab/ Dair and Messano tied for 4th. After 4th place the points spread out, but were close among the next group boats. Important to mention that we have George Hershman returning to the fleet with his daughter Kristin, as crew, and note Dave West had the services of Katy Priest as his crew this weekend. Nice to see some youth in the fleet!
| | | | | | | | | | | |
| --- | --- | --- | --- | --- | --- | --- | --- | --- | --- | --- |
| Sail | Boat | Skipper | Yacht Club | 1 | 2 | 3 | 4 | 5 | Total | Pos |
| 543 | Fast Break | Randy Smith | SFYC | 4 | 2 | 3 | 1 | 2 | 12 | 1 |
| 429 | Space Invader | David West | RYC | 2 | 5 | 5 | 3 | 1 | 16 | 2 |
| 570 | Carbon Offset | Kenny Dair | Cabrillo Beach Yacht Club | 3 | 3 | 1 | 7 | 3 | 17T | 3 |
| 408 | Frenzy Too | Chris Messano, Chris Vilicich | CBYC | 5 | 4 | 2 | 2 | 4 | 17T | 4 |
| 575 | Chance | Greg Dair | CBYC | 1 | 1 | 12/OCS | 11 | 6 | 31 | 5 |
| 466 | Bushwhacker | Don Whelan | San Diego YC | 6 | 8 | 12/OCS | 4 | 5 | 35T | 6 |
| 475 | Que | W. Greg clark | CBYC | 10 | 6 | 7 | 5 | 7 | 35T | 7 |
| 467 | Happy Dayz | George Hershman | CBYC | 8 | 10 | 4 | 6 | 9 | 37 | 8 |
| 580 | Pacer | Ben Bradley | HLBC | 7 | 7 | 8 | 9 | 10 | 41 | 9 |
| 468 | Miss Behavin' | Thomas Priest | Musket Cove Yacht Club, Fiji | 11 | 9 | 9 | 8 | 8 | 45 | 10 |
| 541 | Celes | Scott Jenson | Richmond YC | 9 | 11 | 6 | 10 | 11 | 47 | 11 |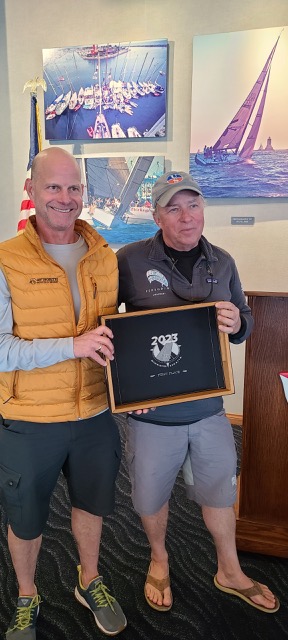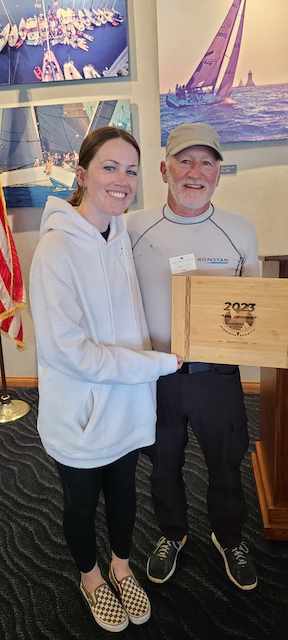 Randy Smith Dave West